Advertise in Beaconsfield
Sorry, but we could not find any property To Rent in Beaconsfield of the type you searched, so we are showing you our nearest properties.
Please try changing your search or increasing the radius of where you are searching.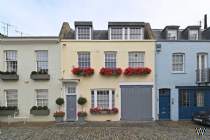 £3,400 Weekly
3 bedroom Mews House to rent
Wilton Row, Knightsbridge, London, SW1X 7NS - 23 miles from the centre of Beaconsfield
A well presented three bedroom mews house on a secure street in Belgravia. Comprising three double bedrooms suites, spacious kitchen and dining area, first floor reception room. The property also benefits from two parking spaces.

Full detailsContact agent

Save Property Property Added 07-11-2019

Marketed by Rokstone Click to show agent's number
Where to Eat and Drink in Beaconsfield
Useful Links for Beaconsfield
Flats to rent in Beaconsfield