£650,000
4 bedroom Detached House for sale
Smeeth, Ashford, Ashford, TN25 6SY - 3 miles from the centre of Henwood Industrial Estate
The Express Estate Agency is proud to offer this Four Bedroom Grade II Listed Detached House – all interest and OFFERS are INVITED. *Guide Price £650,000 - £675,000*

Full detailsContact agent

Save Property

Marketed by Express Estate Agency Click to show agent's number
£650,000
4 bedroom Detached House for sale
Hythe, Hythe, CT21 5PN - 10 miles from the centre of Henwood Industrial Estate
The Express Estate Agency is proud to offer this Four Bedroom Detached Property – all interest and OFFERS are INVITED. *Guide Price £650,000 - £675,000*

Full detailsContact agent

Save Property

Marketed by Express Estate Agency Click to show agent's number
£560,000
5 bedroom Detached House for sale
Kennington, Ashford, Ashford, TN24 9DE - Less than 1 mile from the centre of Henwood Industrial Estate
The Express Estate Agency is proud to offer this Four Bedroom Detached House with Two Bedroom Annexe – all interest and OFFERS are INVITED. *Guide Price £560,000 - £575,000*

Full detailsContact agent

Save Property

Marketed by Express Estate Agency Click to show agent's number
£520,000
3 bedroom Detached House for sale
Faversham, Faversham, ME13 8QH - 11 miles from the centre of Henwood Industrial Estate
The Express Estate Agency is proud to offer this Three Bedroom Detached Property – all interest and OFFERS are INVITED. *Guide Price £520,000 - £550,000*

Full detailsContact agent

Save Property

Marketed by Express Estate Agency Click to show agent's number
£500,000
5 bedroom Detached House for sale
Kennington, Ashford, Ashford, TN24 9AE - Less than 1 mile from the centre of Henwood Industrial Estate
The Express Estate Agency is proud to offer this Five Bedroom Detached Property – all interest and OFFERS are INVITED. *Guide Price £500,000 - £550,000*

Full detailsContact agent

Save Property

Marketed by Express Estate Agency Click to show agent's number
£500,000
4 bedroom Detached House for sale
Charing Heath, Ashford, Ashford, TN27 0AU - 8 miles from the centre of Henwood Industrial Estate
The Express Estate Agency is proud to offer this Four Bedroom Detached House – all interest and OFFERS are INVITED. *Guide Price £500,000 - £540,000*

Full detailsContact agent

Save Property

Marketed by Express Estate Agency Click to show agent's number
£375,000
3 bedroom Detached House for sale
Lydd, Romney Marsh, Romney Marsh, TN29 9AT - 12 miles from the centre of Henwood Industrial Estate
The Express Estate Agency is proud to offer this Three Bedroom Detached House – all interest and OFFERS are INVITED. *Guide Price £375,000 - £385,000*

Full detailsContact agent

Save Property

Marketed by Express Estate Agency Click to show agent's number
£280,000
3 bedroom End of Terrace House for sale
Minster Road, Faversham, ME13 8HG - 11 miles from the centre of Henwood Industrial Estate
A beautifully presented three bedroom end of terrace Victorian cottage which has been greatly improved by the current owner offering a modern fitted kitchen, two good size reception rooms, first floor bathroom with a separate shower. The property has also benefits from double glazing & gas heating

Full detailsContact agent

Save Property

Marketed by Robert Michael Click to show agent's number
£150,000
2 bedroom Flat for sale
Kennington, Ashford, Ashford, TN25 4QQ - 3 miles from the centre of Henwood Industrial Estate
The Express Estate Agency is proud to offer this Two Bedroom Flat – all interest and OFFERS are INVITED. *Guide Price £150,000 - £170,000*

Full detailsContact agent

Save Property

Marketed by Express Estate Agency Click to show agent's number
Sorry, but the last Property that we had For Sale in Henwood Industrial Estate is no longer available so we are showing you the nearest 10 properties that may be of interest to you.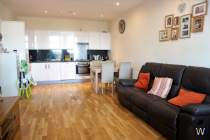 £125,000
2 bedroom Apartment for sale
Panorama, Ashford, TN24 8DF - Less than 1 mile from the centre of Henwood Industrial Estate
Snap up this stunning apartment in Ashford`s most iconic building. Superb investment.

Full detailsContact agent

Save Property

Marketed by Page & Co Click to show agent's number
Where to Eat and Drink in Henwood Industrial Estate
Useful Links for Henwood Industrial Estate
Flats for sale in Henwood Industrial Estate
Nearby Henwood Industrial Estate