AGENTS -

to list your all your properties or just your business for FREE!
We are a fast growing Property Portal within the UK advertising properties with for sale values from £12,000 to £50 Million! On our Property Portal and Social Networking sites
We are creating partnerships with counties around the word on a weekly basis and generating more leads for all our Agents. Some of the countries we have partnerships with are UK and Several European countries, Dubai, Mexico, Thailand, USA, Philippines, Caribbean and we are adding more every month
We have now released opportunities for Agents to list as a Top Agent or Wonder Agent for
FREE
.
We can offer this to all Agents whether you upload properties or not and we guarantee that your business gets shown on the first page of all search results creating more interest and enquiries for your business – for
FREE!
Please see below for more details.
TOP AGENT BOX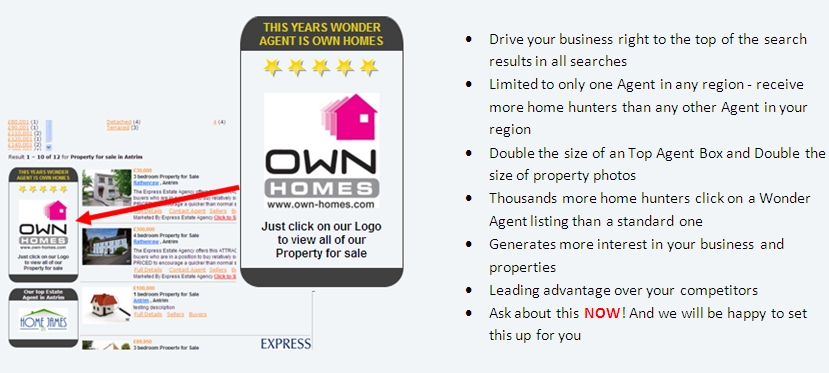 We are a

FREE

to use Portal for you to advertise your properties. Unlike other portals who offer very limited

FREE

options we are a truly

FREE

site:
·
NO
limited offers (a truly free site)
·
DIRECT
links to your websites
·
MANUAL
uploads if not on a feed
·
FULL
Agent details shown
·
FULL
property descriptions and features
·
LOGO
can link to your website
·
DEDICATED
full time Programmers
·
PROPERTIES
shown across all our sites
Yes its true, no hidden agendas, all your contact information shown to all users and direct links to your websites.... Our services are completely

FREE

even if you are already uploading to the maximum number of Portals that your Feed Supplier allows you to we can still let our users see all your properties.
Whether you upload via datafeeds or not we can in just a few minutes show all your properties and your full details to all of our users completely free of charge.
Hey!.. we can even do it in a couple of minutes while you are on the phone to us, that's how simple we have made things.
Your properties will be shown on all sites within the WonderGroup to give your properties and business maximum exposure... all at no cost or effort by you, including full exposure to our existing dedicated users of our Social Networking site who trust our brand.
If you are interested then please contact us and we will be happy to organise this for you.
We accept feeds from any supplier. We can even upload your properties if you do not have a feed.