Advertise in Woodhall spa
Sorry, but we could not find any property To Rent in Woodhall Spa of the type you searched, so we are showing you our nearest properties.
Please try changing your search or increasing the radius of where you are searching.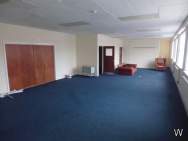 £1,000 Monthly
Commercial Property to rent
Salisbury Street, Scarborough, YO12 4EH - 79 miles from the centre of Woodhall Spa
We are pleased to be able to offer this large office space on Salisbury Street, Scarborough, consisting of two rooms and a kitchen area totalling 1907 Sq feet. All utility bills are included in the rent. Please contact us for more information.

Full detailsContact agent

Save Property Property Added 30-10-2019

Marketed by GLS Properties Click to show agent's number
Where to Eat and Drink in Woodhall Spa
Useful Links for Woodhall Spa
Flats to rent in Woodhall Spa