£475,000
5 bedroom Property for sale
Catbrook, Chepstow, Chepstow, NP16 6NA - 17 miles from the centre of Pontnewynydd
The Express Estate Agency is proud to offer this Five Bedroom Detached Bungalow – all interest and OFFERS are INVITED. *Guide Price £475,000 - £500,000*

Full detailsContact agent

Save Property

Marketed by Express Estate Agency Click to show agent's number
£350,000
4 bedroom Property for sale
Cwmoody, Pontypool, Pontypool, NP4 0JA - Less than 1 mile from the centre of Pontnewynydd
The Express Estate Agency is proud to offer this Characteristic Four Bedroom Detached Cottage with Extensive Garden Grounds and Country Views – all interest and OFFERS are INVITED. *Guide Price: £350,000 - £370,000*

Full detailsContact agent

Save Property

Marketed by Express Estate Agency Click to show agent's number
£345,000
4 bedroom Property for sale
Llangynidr, Crickhowell, Crickhowell, NP8 1NF - 11 miles from the centre of Pontnewynydd
The Express Estate Agency is proud to offer this Four Bedroom Detached Bungalow – all interest and OFFERS are INVITED. *Guide Price £345,000 - £365,000*

Full detailsContact agent

Save Property

Marketed by Express Estate Agency Click to show agent's number
£340,000
5 bedroom Property for sale
Blackwood, Blackwood, NP12 1QF - 8 miles from the centre of Pontnewynydd
The Express Estate Agency is proud to offer this Five Bedroom Detached House – all interest and OFFERS are INVITED. *Guide Price - £340,000 - £360,000*

Full detailsContact agent

Save Property

Marketed by Express Estate Agency Click to show agent's number
£270,000
4 bedroom Property for sale
Garndiffaith, Pontypool, Pontypool, NP4 7PB - Less than 1 mile from the centre of Pontnewynydd
The Express Estate Agency is proud to offer this Four Bedroom Detached Property – all interest and OFFERS are INVITED. *Guide Price £270,000 - £285,000*

Full detailsContact agent

Save Property

Marketed by Express Estate Agency Click to show agent's number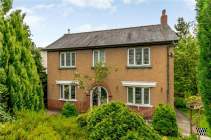 £220,000
3 bedroom Property for sale
Aberdare, Aberdare, CF44 0PA - 18 miles from the centre of Pontnewynydd
The Express Estate Agency is proud to offer this Three Bedroom Detached House – all interest and OFFERS are INVITED. *Guide Price - £220,000 - £235,000*

Full detailsContact agent

Save Property

Marketed by Express Estate Agency Click to show agent's number
£199,000
4 bedroom Property for sale
Cathays Terrace, Cardiff, CF24 4HT - 17 miles from the centre of Pontnewynydd
Situated on Cathays Terrace, in a prime position for student accommodation, this terraced house requires significant refurbishment, but nonetheless affords an excellent opportunity for an investor.

Full detailsContact agent

Save Property

Marketed by Simpson Estates Click to show agent's number
£189,950
2 bedroom Property for sale
Heol y Barcud, Thornhill, Cardiff, CF14 9JB - 16 miles from the centre of Pontnewynydd
This modern mid link house is convenient for all Thornhill's amenities including the School, Sainsburys and the Cardiff North Surgery. There are bus links with Cardiff City Centre and a rail link via Lisvane/Thornhill Station.

Full detailsContact agent

Save Property

Marketed by Simpson Estates Click to show agent's number
£75,000
3 bedroom Property for sale
Abertillery, Abertillery, NP13 1QL - 5 miles from the centre of Pontnewynydd
The Express Estate Agency is proud to offer this – all interest and OFFERS are INVITED. *Guide Price: £75,000 - £80,000*

Full detailsContact agent

Save Property

Marketed by Express Estate Agency Click to show agent's number
We cannot find any properties in pontnewynydd but here are the nearest 10 properties that we have available
£65,000
2 bedroom Property for sale
Abertillery, Abertillery, NP13 1NP - 5 miles from the centre of Pontnewynydd
The Express Estate Agency is proud to offer this Two Bedroom Mid Terrace – all interest and OFFERS are INVITED. *Guide Price - £65,000 - £75,000*

Full detailsContact agent

Save Property

Marketed by Express Estate Agency Click to show agent's number
Where to Eat and Drink in Pontnewynydd
Useful Links for Pontnewynydd
Flats For Sale in pontnewynydd