£900,000
5 bedroom Property for sale
Outwell, Wisbech, Wisbech, PE14 8RD - Less than 1 mile from the centre of Emneth
The Express Estate Agency is proud to offer this Five Bedroom Detached House with a Two Bedroom Self-Contained Annexe – all interest and OFFERS are INVITED. *Guide Price £900,000-£1,000,000*

Full detailsContact agent

Save Property

Marketed by Express Estate Agency Click to show agent's number

£675,000
5 bedroom Property for sale
Welney, Wisbech, Wisbech, PE14 9TB - Less than 1 mile from the centre of Emneth
The Express Estate Agency is proud to offer this Seven Bedroom Detached Property set within a Private Plot– all interest and OFFERS are INVITED. *Guide Price £675,000 - £725,000*

Full detailsContact agent

Save Property

Marketed by Express Estate Agency Click to show agent's number

£545,000
5 bedroom Property for sale
Tydd St Giles, Wisbech, Wisbech, PE13 5NE - 4 miles from the centre of Emneth
The Express Estate Agency is proud to offer this Five Bedroom Detached Property – all interest and OFFERS are INVITED. *Guide Price £545,000 - £575,000*

Full detailsContact agent

Save Property

Marketed by Express Estate Agency Click to show agent's number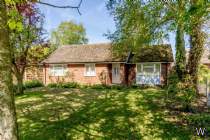 £300,000
3 bedroom Property for sale
Stoke Ferry Road, Oxborough, Kings Lynn, PE33 9PS - 11 miles from the centre of Emneth
CHAIN FREE! Very well presented detached three bedroom bungalow situated in the delightful village of Oxborough with glorious views of Oxborough Hall and Oxborough church ruins. This superb bungalow boasts conservatory, garage, gardens, parking, UPVC double glazing and oil central heating.

Full detailsContact agent

Save Property

Marketed by LONGSONS Click to show agent's number

£280,000
0 bedroom Property for sale
West Winch, King's Lynn, King's Lynn, PE33 0LE - 11 miles from the centre of Emneth
The Express Estate Agency is proud to offer this Three Bedroom Detached Bungalow – all interest and OFFERS are INVITED.

Full detailsContact agent

Save Property

Marketed by Express Estate Agency Click to show agent's number

£239,950
3 bedroom Property for sale
Church Lane, Marham, Kings Lynn, PE33 9HZ - 11 miles from the centre of Emneth
CHAIN FREE! Very well presented detached three bedroom house situated with church views in the popular village of Marham. The property boasts kitchen/dining room, UPVC double glazing and allocated parking for two cars

Full detailsContact agent

Save Property

Marketed by LONGSONS Click to show agent's number

£230,000
2 bedroom Property for sale
March, March, PE15 0BP - 9 miles from the centre of Emneth
The Express Estate Agency is proud to offer this Two Bedroom Detached Bungalow – all interest and OFFERS are INVITED. *Guide Price £230,000-£250,000*

Full detailsContact agent

Save Property

Marketed by Express Estate Agency Click to show agent's number

£230,000
3 bedroom Property for sale
March, March, PE15 9EQ - 9 miles from the centre of Emneth
The Express Estate Agency is proud to offer this Three Bedroom Detached Bungalow – all interest and OFFERS are INVITED. *Guide Price £230,000-£255,000*

Full detailsContact agent

Save Property

Marketed by Express Estate Agency Click to show agent's number

£200,000
4 bedroom Property for sale
Watlington, King's Lynn, King's Lynn, PE33 0EZ - 11 miles from the centre of Emneth
The Express Estate Agency is proud to offer this Four Bedroom Semi- Detached Property – all interest and OFFERS are INVITED. *Guide Price £200,000 - £210,000*

Full detailsContact agent

Save Property

Marketed by Express Estate Agency Click to show agent's number
We cannot find any properties in emneth but here are the nearest 10 properties that we have available

£120,000
2 bedroom Property for sale
March, March, PE15 8SN - 9 miles from the centre of Emneth
The Express Estate Agency is proud to offer this Two Bedroom Mid Terrace House – all interest and OFFERS are INVITED. *Guide Price £120,000-£140,000*

Full detailsContact agent

Save Property

Marketed by Express Estate Agency Click to show agent's number
Where to Eat and Drink in Emneth